The Gladiator Sandal, THE shoe for this spring and summer!
I love these sandals!!  They are so fun and different from what you have in the closet right now.  You will be dressing them up and down all summer long.  When picking our gladiator sandals we decided to go with one that you can lace up in the front.  This feature makes them more adjustable to each person.  
Here are some outfits ideas once you have your own pair of gladiators:
 1.  Let's start with the easy go to outfit, the denim shorts.  I love the distressed frayed ones the best, but any pair will work.  Your top can be a basic tank or tee and add a layer with a longer than your shorts kimono cardigan (maybe with fringe on it).  
2.  A short dress.  This can be a basic solid dress, a floral print (on trend right now), or lace in any color.  These tall gladiators paired with a dress is just like wearing your tall boots with a dress in the fall.  You can wear about any dress with these, just not sequins or anything too fancy. 
3.  My summer favorite the ROMPER!!  I love a good romper with or without a longer than it kimono or cardigan and our gladiator sandals.  The faux leather jacket is fun too!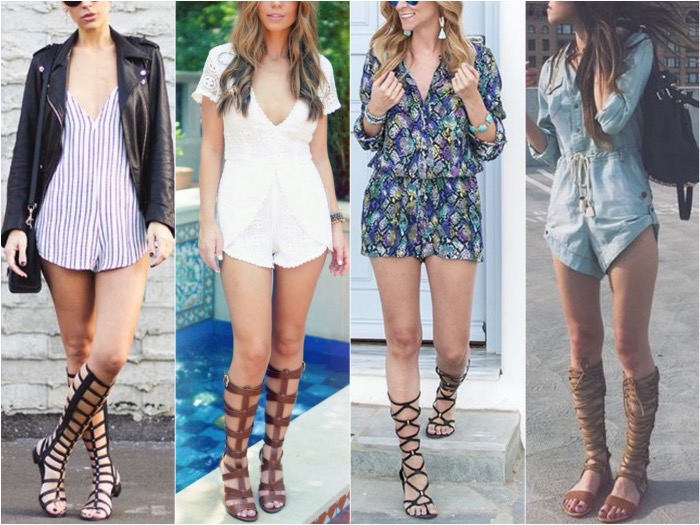 4.  A long maxi dress sheer on the bottom or slits to let the sandals peek out as you walk.  
5.  The HOT right now hi-lo t-shirt dress.  This dress almost frames these shoes, made to be together, LOL.  
I hope these outfit ideas helped.  If you are loving these sandals and need a pair e-mail Ashley at ashley@bossboutique.com or message us on our Facebook page bossboutiquesd.    
Need more outfit ideas and style tips?  Follow Boss Boutique on Pinterest at www.pinterest.com/bossboutique.
 Boss Boutique will be setup this Saturday in the Huron Event Center for the Shopping Expo from 10:00 am to 4:00 pm.  Stop by and check out these shoes!
Tell us your favorite outfit in the comments below!  
Have a great day!
Ashley E.